Jaaxy a Keyword Tool Review
The quick answer to give some Jaaxy information is that it helps you to know your keyword position and to know your keyword competition.   Therefore, Jaaxy is a Keyword Tool.  You may  ask…What is a keyword research tool for?   It is a tool to assist you with optimizing your website keywords to lead you on a path to a successful website.
Use your Keywords for Free Traffic
When you are creating your website or even have a struggling website, you will want to  create free traffic to your site.  Without traffic, you will have a very lonely website that contains your words but no one is reading those words that you spent so much time on.
After you have written your great content, Jaaxy will help you optimize that content utilizing your keywords with the use of their keyword research tool. This research will educate you on what your audience is looking for, allowing you to  know your keyword position, and to know your keyword competition.  These are all  critical when you are trying to get your  website SEO ranked.
Jaaxy Details from my own personal experience
Name –   Jaaxy
Price – Free for 30 Searches
$19/ month for Jaaxy Pro
$49/month Jaaxy Enterprise
Website – www.jaaxy.com
Owners – Kyle and Carson
Overall Rank – 9.7 out of 10
Weighing the Pros and Cons of Jaaxy
Pros:
30 Free Keyword searches
Unlimited searches with Jaaxy Pro and Jaaxy Enterprise
Very detailed  keyword search information
Use of the Alphabet Soup Search Method
Site Rank Analysis
Website Analyzer
Brainstorm Idea Feed
NO download is needed to use it
Cons:
I started with the 30 free searches.  They go very fast and lead you to wanting more searches!
You need to spend some time understanding what the searches are telling you.  Otherwise you have a great tool that you are not utilizing to the fullest potential.
Who is it Jaaxy For?

Jaaxy is for………. anyone within the online business world wanting to be successful at it.  It will be beneficial to you whether you are just beginning the creation of  a website up to the point that you have many websites.  The benefits to you are increased traffic, understanding your competition, and even understanding your own website and your audience.
Training and Tools available with Jaaxy
Keyword Search Tool
You will see below the amount of detail that you will receive when you do a Keyword Search.   Just for an example, I did a keyword search on swimming diapers.  Two of the keywords (swimming diapers babies and babies swimming nappies) came back with a  QSR score of 9 and 19 respectively.   This score is explained in detail below the example.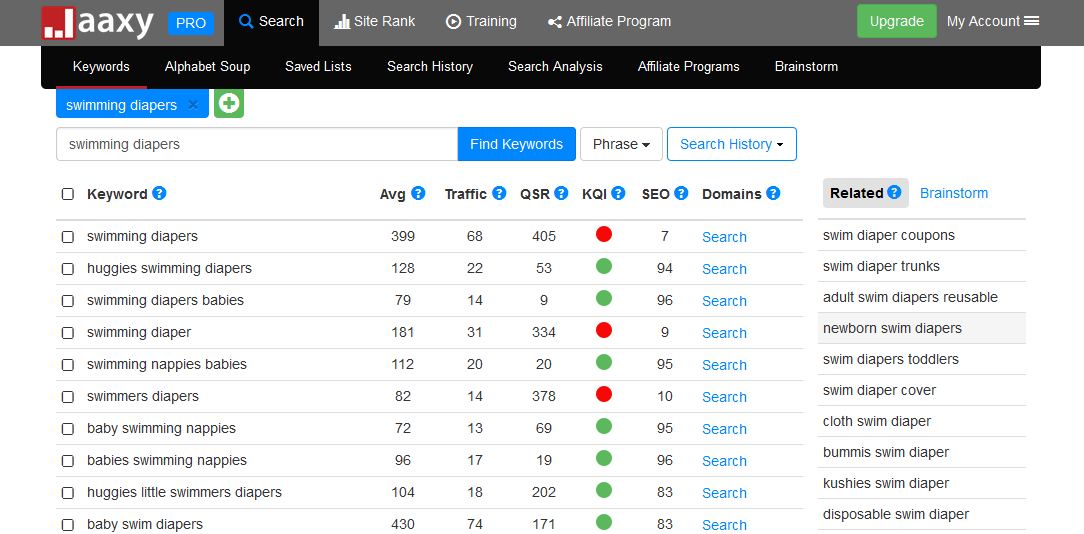 Avg. – This is the average number of searches your keyword has in a month.
Traffic – The number of visits to your website if you are ranked on the first page of the Search Engine.
QSR (Quoted Search Results) – Based on your exact keyword, the number of competing websites your would have  in Google. The lower the number the better so you can make the first page of a search.

KQI (Keyword Quality Indicator) – This is a Green (great), Yellow (ok), and Red (poor) circle which shows you quickly if you have a great keyword.  The indicator combines the other factors to decide the quality of your keyword.
SEO – This is a score based on the competition and traffic of your keyword.  100 is the highest.  So anything over 90 is good.
Domains – This shows you the domains available for your keyword.  If you are wanting to buy a domain based on your keyword this is a very helpful tool.
Now why don't you give it a try below and see the results of your keyword search.
Alphabet Soup Method
This is a method to type a keyword and then find related A to Z keywords that could help you rank if you use them on your site.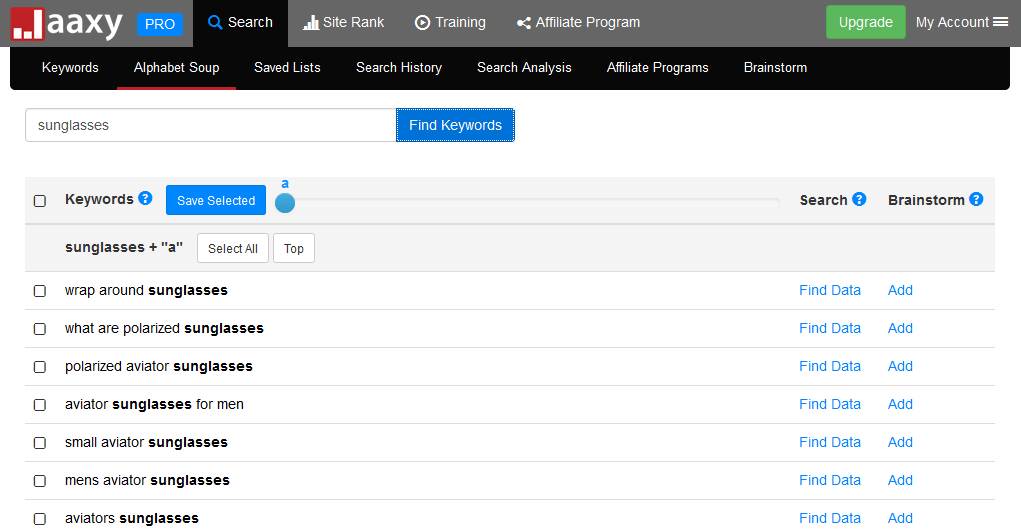 You can see above that I typed Sunglasses as a keyword.  In this method, it starts with the letter "a" and shows me related keywords to sunglasses for each letter of the alphabet.  If I find one I like, I can click Find Data and receive all of the details related to this search.
Price
The pricing structure is accommodating for everyone.  If you are just getting started or just want to see what it is all about, you can sign up for free and receive 30 keyword searches.
The Jaaxy Free Trail Sign up is easy and does not require a credit card.  If you are serious about starting your website or struggling with one you have, Jaaxy Pro is perfect.  It is $19 a month or $199 for the year.  If you are a power user with many websites, than Jaaxy Enterprise is the one.  Here is a chart for you to Compare the  Benefits of each below.
Name –   Jaaxy
Price – Free for 30 Searches
$19/ month for Jaaxy Pro
$49/month Jaaxy Enterprise
Website – www.jaaxy.com
Owners – Kyle and Carson
Overall Rank – 9.7 out of 10
My Final Opinion
Having used Jaaxy now for quite some time, I can honestly say it has changed the amount of Traffic I am receiving on my websites.  Without this traffic, I would not be successful.  I think it is worth a try for anyone creating a website to see if it helps you too.
Check out my last Review here!
Please let me know if you have any questions on What is Jaaxy.com or if there is a topic that I did not cover in my review.
I look forward to hearing from you!
Gena