Pinterest Your Business
As you work on your online business, remember the Pinterest Business Model of creating a Pinterest Business Account to advertise your online business for free.  Before we talk about creating an account, let's talk about the what, why, and how of Pinterest.

What is Pinterest?
Pinterest is a  Social Media platform but it is not like Facebook and Twitter which are more for social connections.

You can use the Pinterest site to find interesting pictures or pins of animals, recipes, tips, designs, ideas, hobbies, quotes, hairstyles, shoes, weddings, etc.  The list is simply unlimited on how each person uses it for themselves.  The site is used to connect or to follow (but not socially) others who have the same interests by sharing their pins of interest.  All of your pins are organized and kept safe on the Pinterest site which you can connect to at any time from any where.
Why Pinterest?
Pinterest is not as big as the "big guys", Facebook and Twitter.  However, when it started in January 2011 it had zero visitors.  The site grew to 11 Million unique U.S. visitors in January 2012.  That is just the growth in one year.  Which makes this independent site the fastest growing site in history to hit the 10 Million mark.  Statistics are showing that in January 2015, Pinterest reached a high of over 50 Million unique U.S. visitors.  With that being said, that's 50 Million reasons why you should use Pinterest for your business.
How to use Pinterest for your business?
By promoting your business on Pinterest, customers cannot buy your products directly on the site.  However, it has a huge free marketing potential for your business by using images.  Each of the pinned images are linked back to the original source which is your business site.  Every image can then be repinned onto an unlimited amount of users' boards.   Each repinning increases the market reach of your business.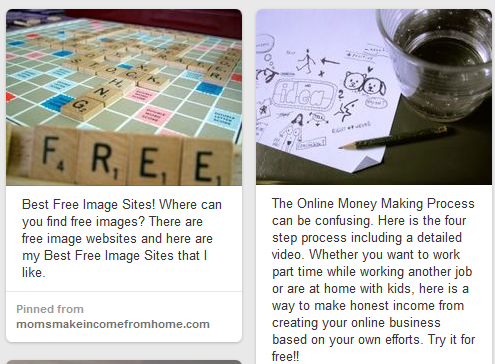 Creating a Business Account
It is free to set up a business account on Pinterest.  You can create this account whether you are a start up  blogger or you have an existing business.  If you already have a personal account, you can easily convert the personal account to a business account.  They do have Business Terms of Service that you must agree to.  Click here to create a Pinterest Business Account or convert from a personal account.
Business Profile
In the profile of your business account, you will be able to share what your business is all about.  You will be able to use up to 200 words.  It is a great opportunity to share your story, your products, and promote your brand. Remember that keywords are important in the About You section. You can also create a group board and invite any of your followers to pin with you.  That is a great way to show how your company inspires others.
Verify your website
In your profile, make sure to include your website and then get it verified.   This will tell everyone on Pinterest that you own your website. Once verified, your website will appear below your name and can be clicked on to go directly to your site.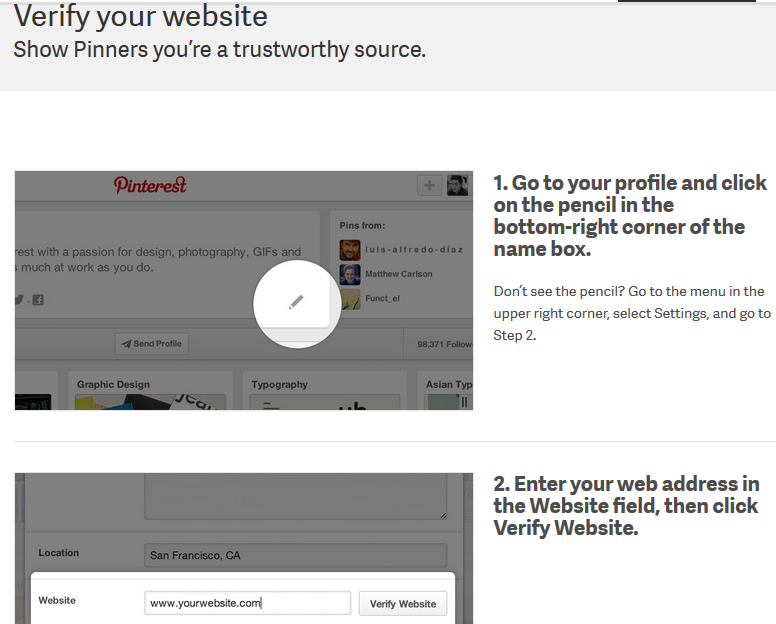 Business Account Features
The business account features are the same as with a personal account.  Therefore if you are switching from a personal account to a business account, all of your followers, your boards, and your pins will look the same.  The difference is you will receive updates on future services and products that will be available to businesses only along with the features listed below.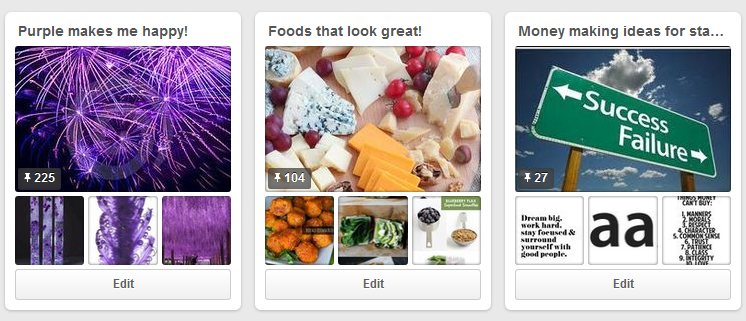 Add Helpful Buttons
1) Add a Pin It Button to your site
You can add a Pin It Button right on your website.  This Pin It button will allow visitors to your site to connect directly to your Pinterest account to follow you or to pin your most recent pins to one of their boards.  To add the button,  click on your setting (looks like a gear) drop down box and you will see ⇒make a widget.  Copy the provided code and paste it in the widget section of your WordPress or other CMS wherever you would like it to appear on your site.
2) Add a Follow Button
If you decide not to add a Pin It button on your site, you can still add a Follow Button.  The follow button will allow a visitor on your site to follow you without seeing your most recent pins displayed on your site.
3) Add a Hover On Pin It Button
The  hover on pin it button when added to your site will appear over an image when a user moves their mouse over an image. This will allow a user to pin an image from your site to one of their boards.  This creates additional referral traffic from Pinterest.
4) Add a Pin It Button to your Browser
Whether you are using Firefox, Chrome, or Safari, make sure that you add a Pin It button to your browser.  This will make it very easy

to pin an image to your Pinterest account when you spot something on the internet that is interesting enough to add to one of your boards.
Pinterest Analytics
Pinterest offers Analytics to show how often users are repinning your pins and visiting your website.  This will give you a gauge if and how much Pinterest social media is adding to your site traffic.  One way to help this traffic, add pins  from your website to your Pinterest account every time you create a new post.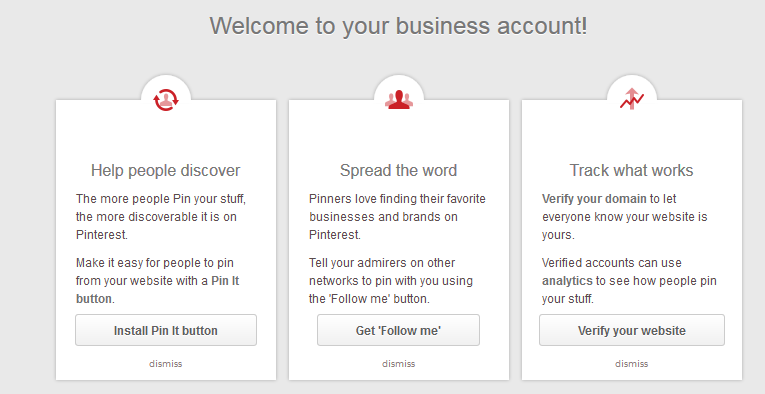 Increase Traffic
In order to increase the number of your followers, you need to pin as often as you can.  Each of your pins, appears in your followers feeds and in any search made on the category of your board that has your pins.  So you can see that if you are pinning a little every day, you will continue to increase the amount of traffic to your site.

Last Minute thoughts!
Create boards that have an uncluttered look.
Follow Pinterest accounts that have a huge following.
Use your other social media accounts to point to your Pinterest account.
Besides your business boards, make sure to add plenty of personal boards that show who you are.
Start a daily pin theme.
Pin other unique products besides your own.
Follow anyone who pins or likes one of your images.
Explore Rich Pins which allow you to add topic specific details to a pin.
Utilize popular infographics on your boards.
Create boards that inspire to increase followers.
Use good keywords in your board titles.
I hope my post on the Pinterest Business Model has been helpful to you in your online business journey.  Please let me know if you have any questions.
I look forward to hearing from you!
Gena