Grocery Shopping Tips to Save Money!

Everyone knows the basics of saving money at the grocery store.  You check out the weekly ads and cut coupons and that is important to do but there are other ways to be smart about your shopping so here are some Grocery Shopping Tips to Save Money!

Buy at your convenience for the best price
Take some time and put together a list of all the nonperishable items and perishable items that can be frozen that you regularly use on an ongoing basis.

It is important that you do not wait and buy these items when you are totally out or almost out.  If you do, you probably are not buying the items at the best price.  Instead if you buy these items in bulk when they are on sale, you can stock up on them for the future at the best possible price.
Check your receipts
---
Always, always, always check your receipt after you have made your purchases and preferably before you have left the store or parking lot.  I can't tell you how many times there has been a mistake made on my receipt.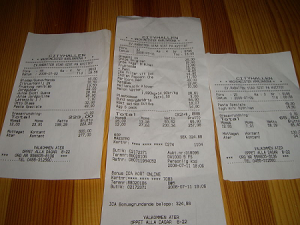 It can be from a wrong price, a greater quantity than you purchased, or even a charge for an item from the person behind you in line.  Don't be cheated and pay too much!`
Mental note of your purchases
---
While you are putting your groceries away,  make sure that everything that you bought arrived home with you. I have paid for items  that were put into  a bag that was still at the store or under a ledge on the counter that the next person found in their bag when they got home.
One way to make sure, is just keep a mental note of what you bought.  If you are missing a item, immediately call the store and speak to the customer service desk.  They  are very helpful because they know that this does happen from time to time.
Make a Grocery List
---
Get in the habit of keeping a notepad on your counter or on your frig to write down items as you use them or as you think of them. Never go to the store without a list.
By taking a list , the list keeps you focused on what you are there for.  Go without a list and it has been proven over and over again that most people will  spend more money than they need to spend and they also forget something that they really need.  Then you end up taking another trip to the store.
Use your Reusable Bags
---
Remember to take your reusable bags into the store with you.  Not only does this save on the environment but some stores are starting to charge you if you use their plastic bags.  Aldi's  is one store that does this already.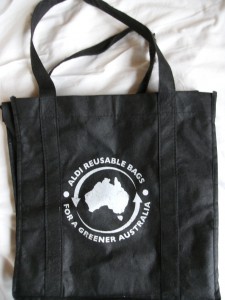 Plus reusable bags are usually larger than the plastic bags from most grocery stores.  Using larger bags will make it easier for you since you will have fewer bags to carry into your house once you get home.
No Front Register Buying
---
Grocery stores place all of that candy and magazines at the front counter where the register is for a reason.  They know customers will be tempted to buy when they are waiting in line. These items are at a high profit margin for the stores.
If you want a candy bar, shop the candy aisle.  There you will find better prices and  bulk options available.  If you are regularly purchasing a particular magazine, get a subscription.  It is much cheaper or even consider getting it from your local library.
Buy the Store Brand or a Generic Brand
---
Compare the prices whenever you have an option of buying a store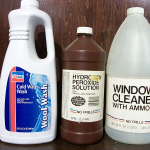 brand or a generic product.  Usually these items are at a much cheaper price.  Don't be afraid to try them.  Most of the time, you can't even tell a difference but your wallet can.
Don't Shop with your Kids
---
This isn't always easy because as you know I have kids too.  It is much easier to shop without your kids and there are many reasons why you should.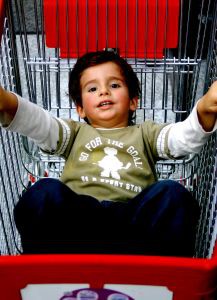 Kids can make you loose your thought process on comparing prices, staying with your shopping list, and pressuring you into buying something that the family doesn't need around the house and you end up spending more money than you need to.
Check what you have at Home
---
Before you ever leave your house to go shopping, you should always check you refrigerator and your pantry shelves for the food you already have.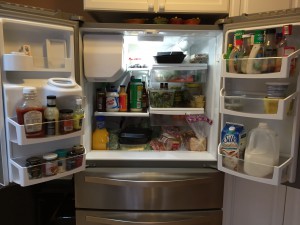 The worst thing to do is to get to the store and wonder if you still have some left of a particular item.  You end up buying it just in case and you spend money when you may not have needed to.
Never go to the store hungry
---
Everyone knows this but yet we still go to the store hungry and end up buying things that are not on our list simply because it looks good.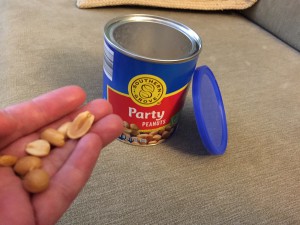 Even if you have to eat some nuts or a few crackers before you leave, take the time to do it.  It will pay off in the end.  You won't spend the money for items that cost too much and are probably unhealthy to have around the house anyway.
Use the small size shopping cart
---
Unless you are shopping for a large quantity of groceries, you should get in the habit of using the small cart if there is one available.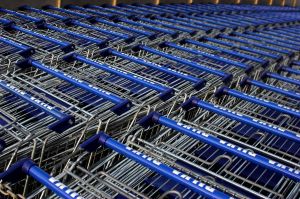 When you use a big cart you tend to buy extra items simply because you have the room in your basket.  Stick to your list and use the small cart.
I hope my list of Grocery Shopping Tips To Save Money has helped you.  Also if you would like to read about one of the top internet hosting, training, and support programs, check out Wealthy Affiliate, offering a 10 lesson free course.  Well worth the money since it's free!
Do you have any tips you would like to share?  Drop me a note below.
I look forward to hearing from you!
Gena